1. You are free
Biking gives a sense of freedom. You feel the wind in your hair, you smell the freshness of the ocean, you hear the birds singing their songs and everything at a pace you decide. It is never the same, but always great. You go from the popular and touristic South Zone and beach areas to the backstreets of less known neighbourhoods as Botafogo and Flamengo, all the way to the old historical city centre. In between you can enjoy the gorgeous views at Guanabara Bay. And the good thing: you can stop anywhere you want, to enjoy the view, take in the scenery and get your pictures.
2. You are active
 
Going around by bike is good for your health. If everybody would bike a bit more often, millions would be saved on health care and especially Brazilians would have less problems with overweight like they have nowadays. With every kilometer you bike, you will burn some necessary calories, because taking care of food and drinks (read: alcohol) is a difficult task during a vacation. And afterwards you won't feel as bad if you drop down at the beach with an ice cold beer or a delicious caipirinha.
3. You can experience
Rio de Janeiro is a chaotic city and you can feel the adrenaline by biking through the thousands of people that are in a rush to go somewhere. You will get to places you wouldn't go if it wasn't for the bike and you will experience things you would have missed otherwise. And though it is quite adventurous, it is also quite safe since Rio de Janeiro has over 400 kilometer of bike lanes in the city. A perfect infrastructure for the perfect bike experience.
You smell, see, experience and feel. Some carioca (somebody that lives and was born in Rio de Janeiro) will yell at you because you are in his way, but on the other hand you will get to know how this same carioca moves and lives in his city.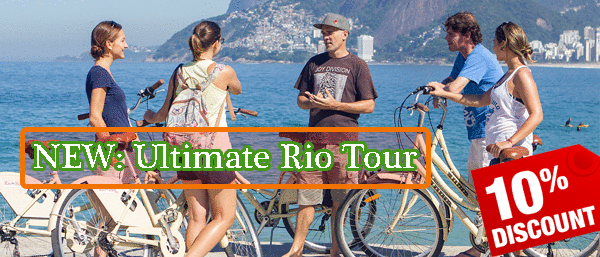 4. You feel better
The feeling going on a new trip, without knowing where you're going to end up, is one of the things that make biking in Rio de Janeiro so special. Within a few hours you will get to know Rio de Janeiro, while before you had no clue where to go, what to do and how the city looked like.
If you go around by foot, you see all the details, but you can only cover small distances. If go around by car or van, you won't get that much details, but you can cover a lot of the city. Biking is the perfect combination. You get the details and you can cover lots of ground.  It gives a great feeling to figure out a city, especially right at the start of your trip. This will help you in the rest of the days in Cidade Maravilhosa.
5. You and the environment
Biking in Rio de Janeiro gets more popular every day, so that's good news for the beautiful nature that the city inhabits. The city is stuck with cars and people in Rio de Janeiro on average spend more than two hours of their day in traffic jams. It should be on every visitors list to go around in a city in an environmental way. Biking, obviously, fits the description. Make the world a better place, and start biking! Brazilians are not really used yet to biking, the cycle culture in Rio doesn't go much further than ride along the beaches. But slowly this is changing. And the more people get on the bike, the more people get the idea to start cycling.
6. You have fun!
This should already be very clear for the different reasons that I mentioned before. But it is fun! No better way then to explore Rio de Janeiro then on a bike. Though not a lot of people now it, yet, Rio is the most bike friendly city in South America. You meet new people, get to new places and see completely different things you would have missed out not having done it by bike.
Feature image: