If you are about to visit Rio de Janeiro, you've probably heard and read something about the city's safety – or the lack thereof. Before getting into details, let me start with this, there are two important truths about safety in Rio. First: it's way safer than everybody says and the image conveyed by negative stories in the media suggests. Second: though it is safer than you had imagined, it's still important to be careful and alert to avoid any trouble during your trip. Obviously, there are no guarantees. But you don't get guarantees anywhere you travel in the world. So, how to handle safety in Rio de Janeiro and avoid the trouble of being robbed - or worse?
There are three major areas you have to be aware of during your stay. The first is the way you move around in the city, the second concerns the areas you visit – or should avoid, and the third is the dress code. Here we will discuss these three areas and give tips for each one of them to help you prepare for your visit to the Cidade Maravilhosa.
Transportation
Transportation on holiday is an important subject, especially in a big city. In the limited time you have, you want to see as much as possible. In Rio you can use all kinds of transportation. But, depending on what time you are moving around, it's better to avoid some of them. As a standard rule it is best to skip the normal buses. Though they do offer a really local experience, try to avoid them as much as you can. It is not that it's a ticket to get robbed, but of all the forms of transportation, buses are definitely the least safe. If you want to use the bus anyway, then use them only during the day and ideally only in the South Zone of the city – unless you are traveling to the airport, in which case the bus is a cheap and good alternative. Always try to find a seat in the front close to the driver.
// Taxis in Rio de Janeiro are quite cheap, 
so price should not be a reason to not use them.
The best way to get around is the metro. Perfectly safe, no need to worry about a thing. Unfortunately the metro network in Rio de Janeiro is not very extensive, which means lots of places are unreachable with the metro. In particular, parts of Botafogo, Urca (Sugarloaf), and the area around the lake are difficult to reach. The good news is that taxis in Rio de Janeiro are quite cheap, so price should not be a reason to not use them. Especially if you're with a group of people, taxis can be a good alternative, since Rio de Janeiro doesn't have any discounted fares for bulk or pre-purchased public transport trips.  You always pay the full price for every trip. Though during the Olympics there will be day cards (for 1, 3 and 7 days) available for public transport. After 10 pm, definitely get a taxi. Even if you're only going a couple of blocks. Don't wander around in streets you don't know, especially if you have drunk too much or/and you are alone. When you come out of the bar, jump directly in a taxi. No discussion (unless you are with a group of locals that know exactly where to go). Note: Uber is active in Rio de Janeiro, it's safe and cheap. Make sure to install the app on your phone before arriving in Rio. 
Areas to go – or not to go
Like every city there are some obvious places in Rio de Janeiro you don't have any reason to visit. These places are in the north and west zones of the city. They consist mostly of favelas (slums) and there is not much of interest to see. One of the exceptions is the cable car of Complexo de Alemão, which offers great views of a dozen or more connected favelas. But really, don't go there on your own. And even with a guide you should think twice about it. The center of Rio is also a place to avoid on weekday evenings. It's a business area, very busy and animated during workday hours, but very few people actually live there and at night it can have a deserted feel to it. If you do go to the city center, let the taxi drop you at the exact place you need to be. There are two other interesting sites which lie a bit outside of the regular tourist areas,: the Maracanã football stadium and the Northeastern/African market Feira de Sao Cristovão. Due to the Olympics Maracanã is closed to visitors, so there's no reason to go there until after the Olympics. Visiting the feira should be done by taxi. A great place to visit, but also better not to wander around in the neighboring area by yourself.
// Bottom line: act like you care,
like you know and like you are aware
The rest of the city is perfectly fine to visit. Be alert, but go ahead, just avoid empty spaces and quiet streets at night. Santa Teresa is a beautiful neighborhood full of nice little bars, Lapa is great for partying, the old city center is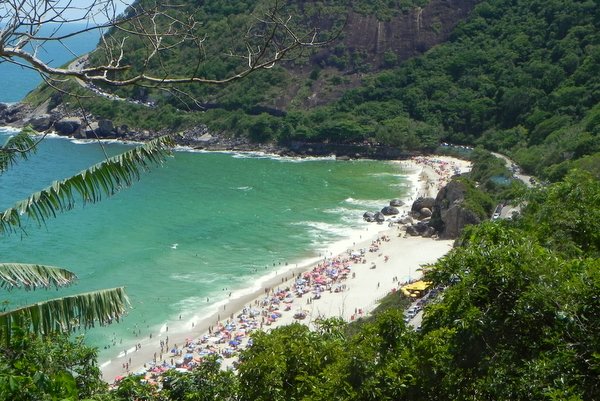 full of historic buildings and places, and the south zone obviously is renowned for its beaches, nightlife, Sugarloaf, Christ the Redeemer and more. Way more. More to the south there is the Olympic neighborhood Barra with its remote beaches Prainha and Grumari. It is difficult to get there, but the nature is stunning. Best to go there with a local who knows his way around, though.
Dress code
Clothes make a difference anywhere in the world, and Rio is no exception. Clothes and other attributes definitely reveal that you are a gringo on a trip. Nothing wrong with that, but this simple fact will make you more vulnerable to robbery. So, how can you avoid that look? First of all, don't dress too much like an obvious tourist. No white sports socks in sandals (you're not in France), no flip flops when it rains, those kind of things. Then, even more important, make sure you don't look like an unprepared tourist. The more confident you look, the less likely you are to attract attention. This has more to do with body language than how you dress. Try to figure out where to go, before you get there. If you really don't know where you are, go to a place where they have WiFi or ask someone who looks like they speak a bit of English to help you. Get rid of all jewelry (important!) when exploring the city, and don't walk around with cameras, GoPros and phones all over the place. Yes, you can take them with you, but make sure you put them away after using them. Bottom line: act like you care, like you know and like you are aware – something people tend to forget when they are on vacation and visiting a city.
// Moving around in a big city of more than 6 million people
is something most people are not used to do on a daily basis.
General advice
All the things mentioned above mainly have to do with common sense. Moving around in a big city of more than 6 million people is something most people are not used to do on a daily basis, so it is good to pay attention to your general behavior. But still, even the best advice cannot guarantee your safety. I've lived in Rio de Janeiro for almost five years, and I - as a tall, blond gringo have never been robbed (touch wood…). But if you happen to be in the wrong place at the wrong time, it doesn't matter how meticulously you have prepared yourself. This brings us to our last piece of advice: make sure you know what to do in the event you DO get robbed. And the only thing you should do, is give everything you have without second thought. Yes, it is annoying to lose all your personal belongings. But it is even worse to get injured, because of a passport, camera, phone or money. Realize that these people probably don't earn in a month, what you spend in a few days.
Tip: don't take more then you need for the day. Do you really need your phone and your camera? Do you really need that much cash? Bring your debit card, thieves can't use it anyways and you can pay with it in all restaurants and attractions. And obviously, leave all the important documents out of your bag; just bring a photocopy of your identity.
There really is no reason to be scared about visiting Rio de Janeiro, the image that is presented is exaggerated. Be cautious and just make sure you know your do's and don'ts.
by Jan Willem Zeldenrust | 20/7/2016
Feature image: