Out & About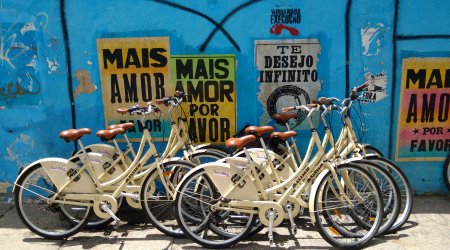 Rio de Janeiro wants you on a bike!
The newspapers talk about the the crisis, as happens as well on TV, radio or on WhatsApp ... Even I do it on Facebook. But everything in life has two sides, so let's talk also about love, joy, happiness. Come out and fill your lungs with fresh air and feel the sea wind while walking in the sand. Let's go! Come for a ride on two wheels, pedaling, pedaling, along the landscape of this beautiful city, enjoying the curving shapes of the mountains.
Rio de Janeiro delights us with God gift. Even for those who look at it every day, it is impossible to get used to it. Its beauty is irreversible fascinating. And nothing better than to enjoy so much beauty at the right pace, not to fast, not too slow. Not at high speed of a motor vehicle, encountering traffic jams, or the slow step of the pedestrian, incapable of going for long distances. Rio wants you on a bike!