Traveling to Brazil is not the same as visiting Asian countries like India or Thailand. It's just not as cheap. So be prepared: Rio is not one of those places where you stay forever without spending a dime. Visiting Rio de Janeiro on a budget​ is not easy, but if you know a few local tricks (jeitinhos), you can definitely get by on less than you might think. So let's focus on ways to see this city on a shoestring.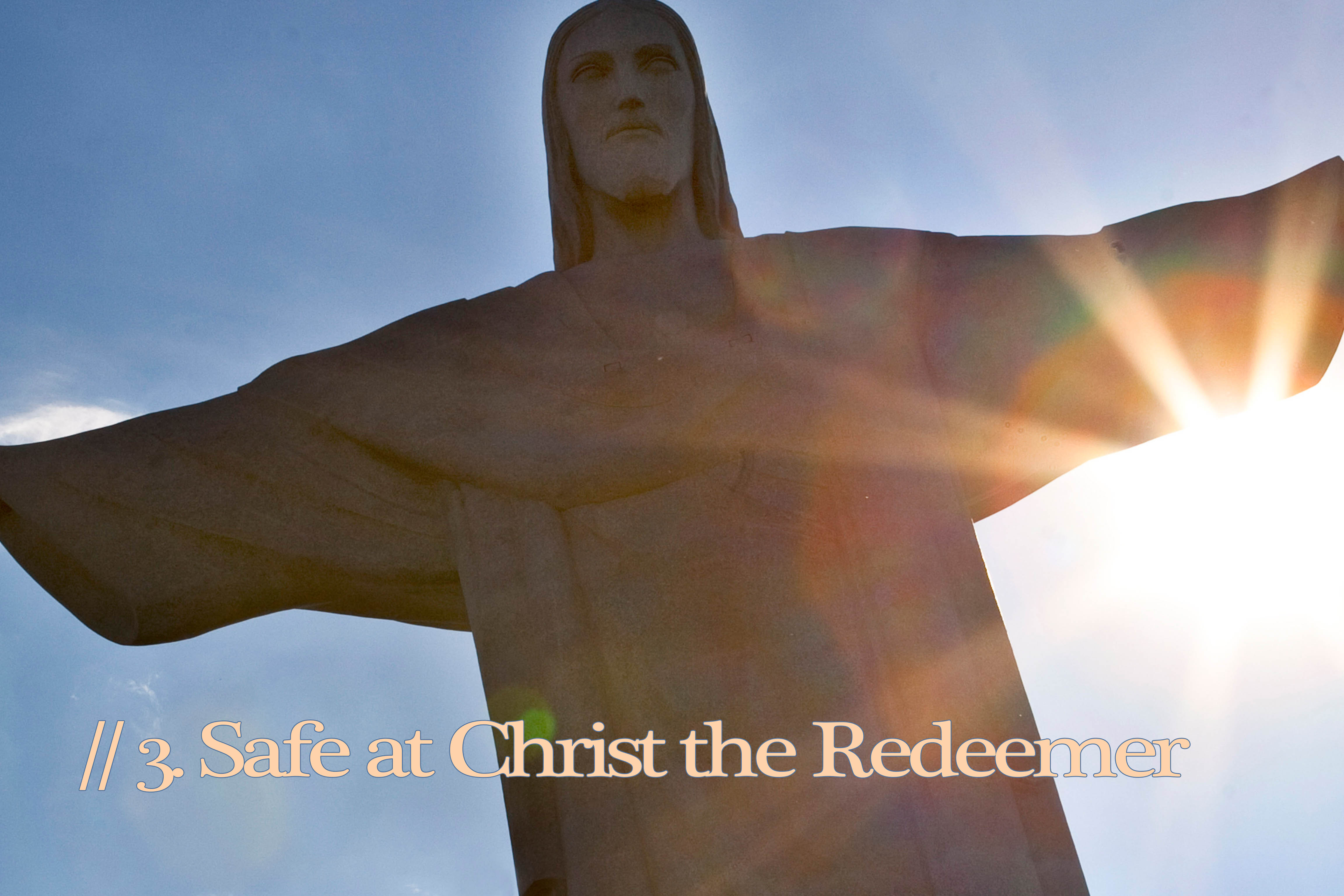 1. Buses from airport. Getting a taxi from the International Airport Tom Jobim (known as Galeão) to anywhere you're likely want to go, will cost you around R$70- R$90. If you are not in a hurry and want to save some real money, take the bus. The blue buses (Real Auto Bus) cost R$14 and take you to the city center or Zona Sul (Copacabana/Ipanema) in around an hour, depending on traffic. They are perfectly safe until early in the evening. As you exit the terminal at Arrivals, turn right and you will find the buses at the end of the street. Or check at the airport information desk.
For late arrivals and departures, for safety reasons, taxis are the better option. Don't get one of those pre-paid taxis, because they overcharge. If you are staying in the city center or Zona Sul, take a yellow city cab outside the arrivals hall. They use meters and you shouldn't pay more than around R$70-R$90, but make sure the meter is switched when you start the journey. If the fare is more than R$100, however, get your stuff out of the taxi and if you are staying at a hotel or hostel, call a receptionist to let the taxi driver know you are not going to pay more than R$80. If you're staying in an Airbnb apartment, try to make contact with the owner so he or she can help you if you think you are being cheated. Communicating in English with taxi drivers will be impossible in most cases.
2. Take public transport. Solo travelers who don't mind a bit of adventure could use bus transport within the city - a bus ticket is only around R$4. It can be a bit of a challenge to figure out which bus to take and where to get out, since very few people speak English and there are no clear explanations about routes and times. However, you can reach many places by bus. Don't use the bus after 8 pm, then you better get a taxi or metro.
A more relaxed, but more limited, option is taking the metro. The subway has easy access, is safe, and will get you from Ipanema or Copacabana to the historical center and the Maracanã stadium, but not Sugarloaf Mountain or the Christ statue. Metro tickets also cost around R$4. Depending on how many people you are traveling with, prices for transport may vary. If for example you're in a group of 4, it might be more economical to take a cab - but remember that most cabs won't take more than 4 people. Taxis in Rio are not too expensive and will get you around the South Zone of the city for less than R$40.
// The great thing about Rio, of course, is the beach.
This is the ultimate money-saving activity…if you do it right.
3. Save at Christ the Redeemer. The entrance fee for the most famous attraction of Rio de Janeiro is R$26 or R$38, depending on season. Traveling in low season, which is normally from April to October, will help save you some money in Rio. In any case, you need to calculate an extra fare of R$27 to go up the Corcovado mountain with a van leaving from Copacabana (Praça Lido) or Largo do Machado. The cheapest option for visiting the Christ statue is to hike up there, through the jungle. It is not easy, and it will take you about 1-1,5 hours, but it's a beautiful off-the-beaten track experience. To do that you need go to Parque Lage, a lovely park in the Jardim Botanico neighborhood, where you can get a trail map. Plenty of buses stop next to the park.
4. Save at the Sugarloaf. Next on the list of almost every visitor is the Sugarloaf. This one is rather expensive because of the two cable cars you have to take to get to the top of the mountain. You pay R$76. But, you can hike to the top of the first hill, called Morro da Urca. It's a short—but relatively steep—hike of 45 minutes to an hour, starting next to the little beach Praia Vermelha. You need to enter the Claudio Coutinho park next to the beach, and after 500 meters you will see the start of the trail on your left. Once you get to the top of the 220 meter-high Morro da Urca, you only have to pay R$40 to go up to the Sugarloaf with the cable car; this fare also includes the return descent. Or you could save big by just skipping the Sugarloaf and enjoying the view from Morro da Urca, while eating a refreshing and nutritious Brazilian açaí. When you are done, you take the trail down, so you end up spending nothing to have a great view of Rio de Janeiro.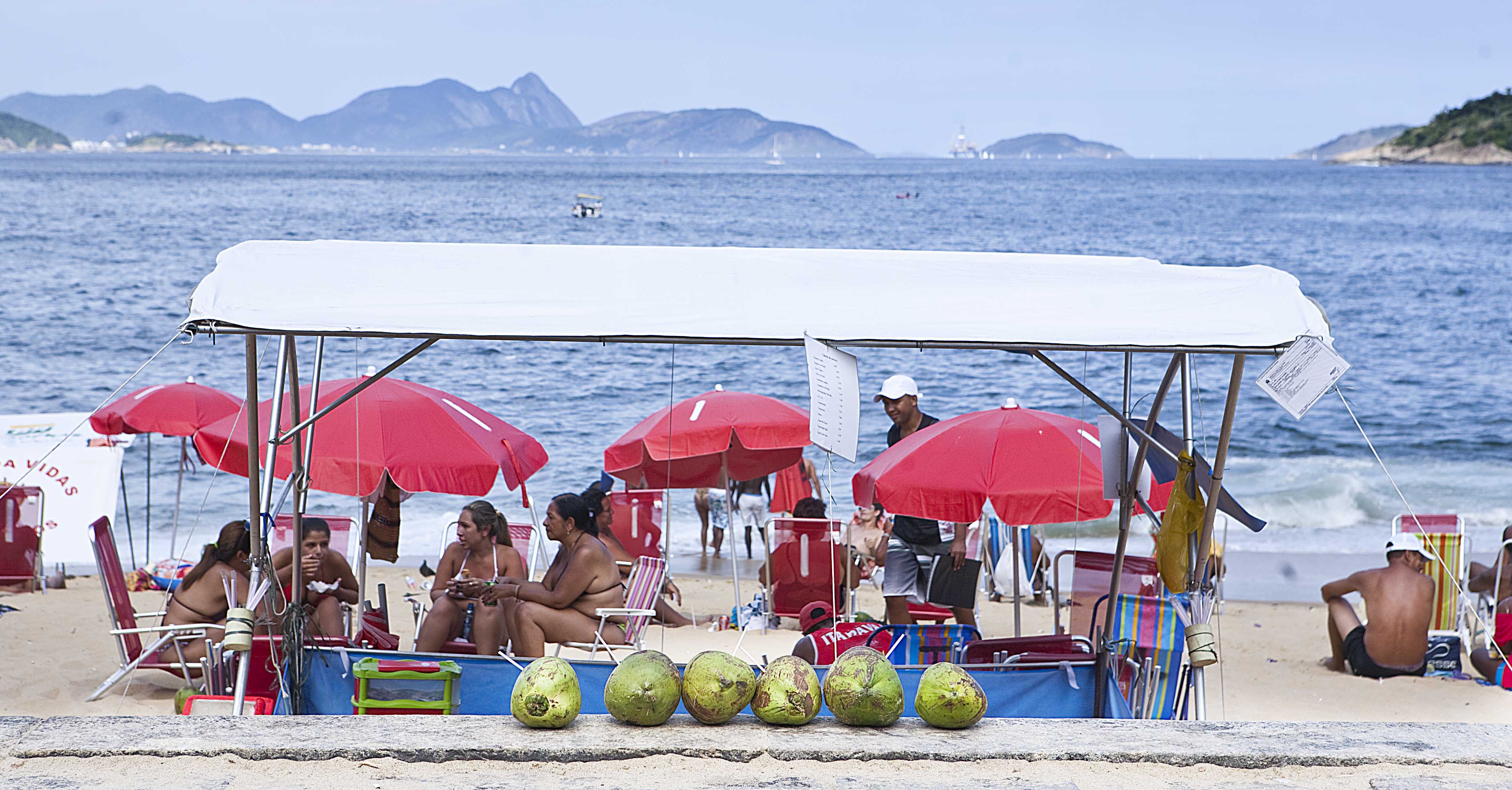 5. Grab some beach time. The great thing about Rio, of course, is the beach. This is the ultimate money-saving activity…if you do it right. Drinks are expensive at the beach and food is not cheap either. Make sure to stop by a supermarket to score the necessary drinks and snacks. Prepare yourself properly: use plenty of sun protection so you don't have to rent an umbrella to protect your gringo skin against the very hot Brazilian sun, and bring your own sarong for sitting on so you don't need to rent a chair. Brazilians never, ever use a towel, preferring a sarong, locally known as a canga.
6. Visit two of the best museums for free. The great Museu de Manhã, designed by the famous Spanish architect Santiago Calatrava and the nearby Rio Museum of Art, offer free admission on Tuesdays. Definitely worth a visit if you have some spare time, or if you are accidentally visiting Rio on one of its rare rainy days.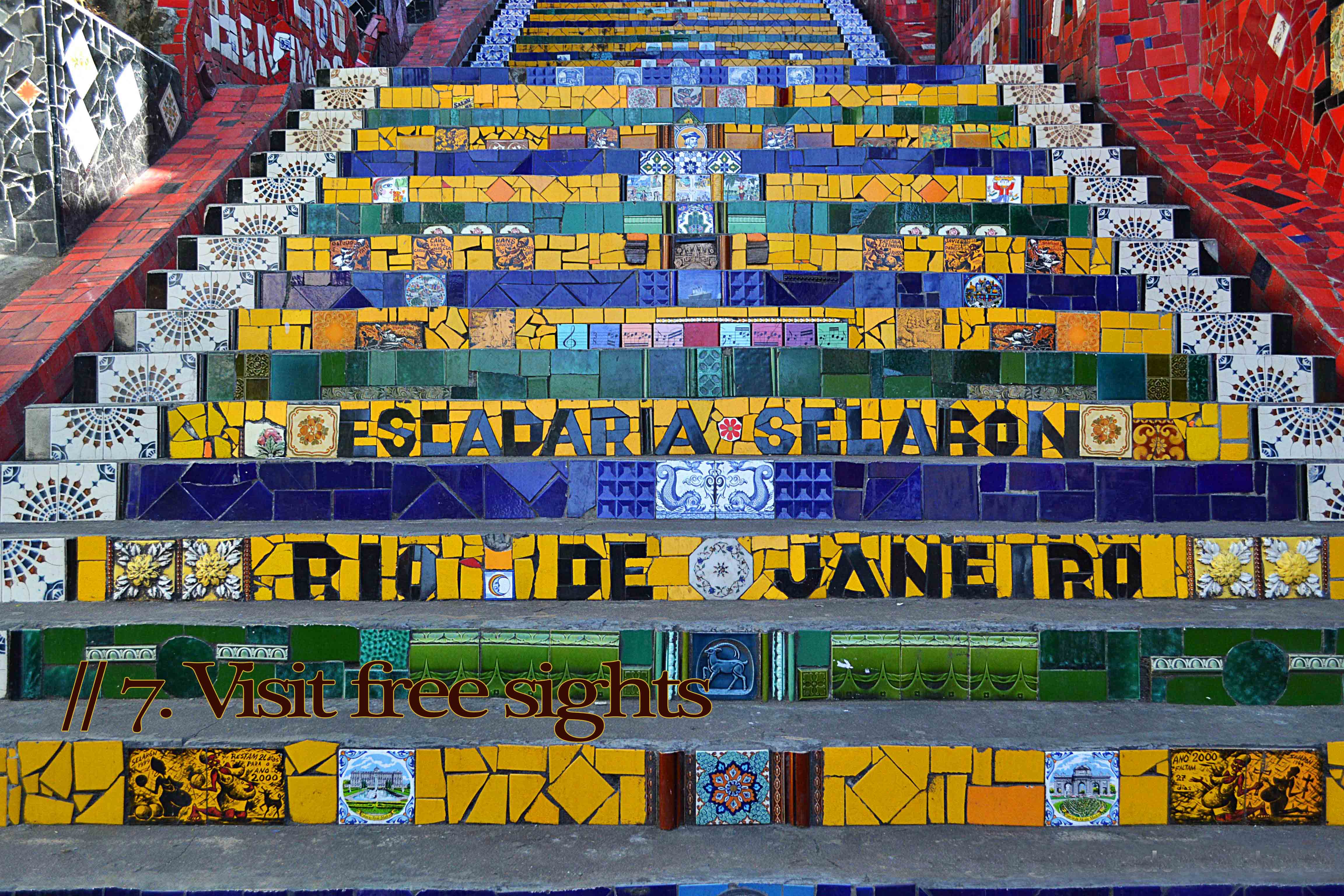 7. Visit free sights. The Stairs of Selaron, the Real Gabinete Portugues de Leitura (the library with the biggest collection of Portuguese books outside of Portugal), the National Library, and the Catedral Metropolitana are all free and well worth a visit. Stroll through the streets of Santa Teresa (take the streetcar to get to the neighborhood) and along Lake Rodrigo Freitas. All for free. Don't miss out on these options!
8. Look for alternative accommodation. Spend your nights at hostels, try couch surfing or find an apartment on Airbnb. There are plenty of apartments available in Rio, many of them within walking distance from the beach. For the more adventurous: many favelas in the South Zone of Rio, with a police presence, nowadays have cheap hostels, with great views. These are very popular among backpackers.
9. Sneak into hotels for great rooftop views. There are several rooftops in Rio that are worth a visit, during the day and at night. The terraces are mostly owned by hotels, which you can visit for free. For a view of Copacabana, the Windsor Atlantica and the Pestana are great places to go. For Ipanema go to Caesar Park or Fasano. Just walk into the hotel like a guest, take the elevator to the upper floor and enjoy the view. In Botafogo you get a great view of the Sugarloaf from Botafogo Praia Shopping (visit during the day).
// Hanging out on the streets with a beer is how Cariocas like it.
Try the batido de coco at Pavão Azul - for lovers of sweet cocktails.
10. Avoid fancy clubs and their high entrance fees. Rio has loads of cool, authentic bars where you can have a good time on the cheap. Canastra (Ipanema), Pavão Azul & Adega Perola (Copacabana), Jobi (Leblon) and a handful of bars in Lapa are perfect for a relaxed night out. Hanging out on the streets with a beer is just how the Cariocas, as the people of Rio are called, like it. Try the batido de coco at Pavão Azul, an excellent mix of cachaça, the local rum, and coconut water - for lovers of sweet cocktails.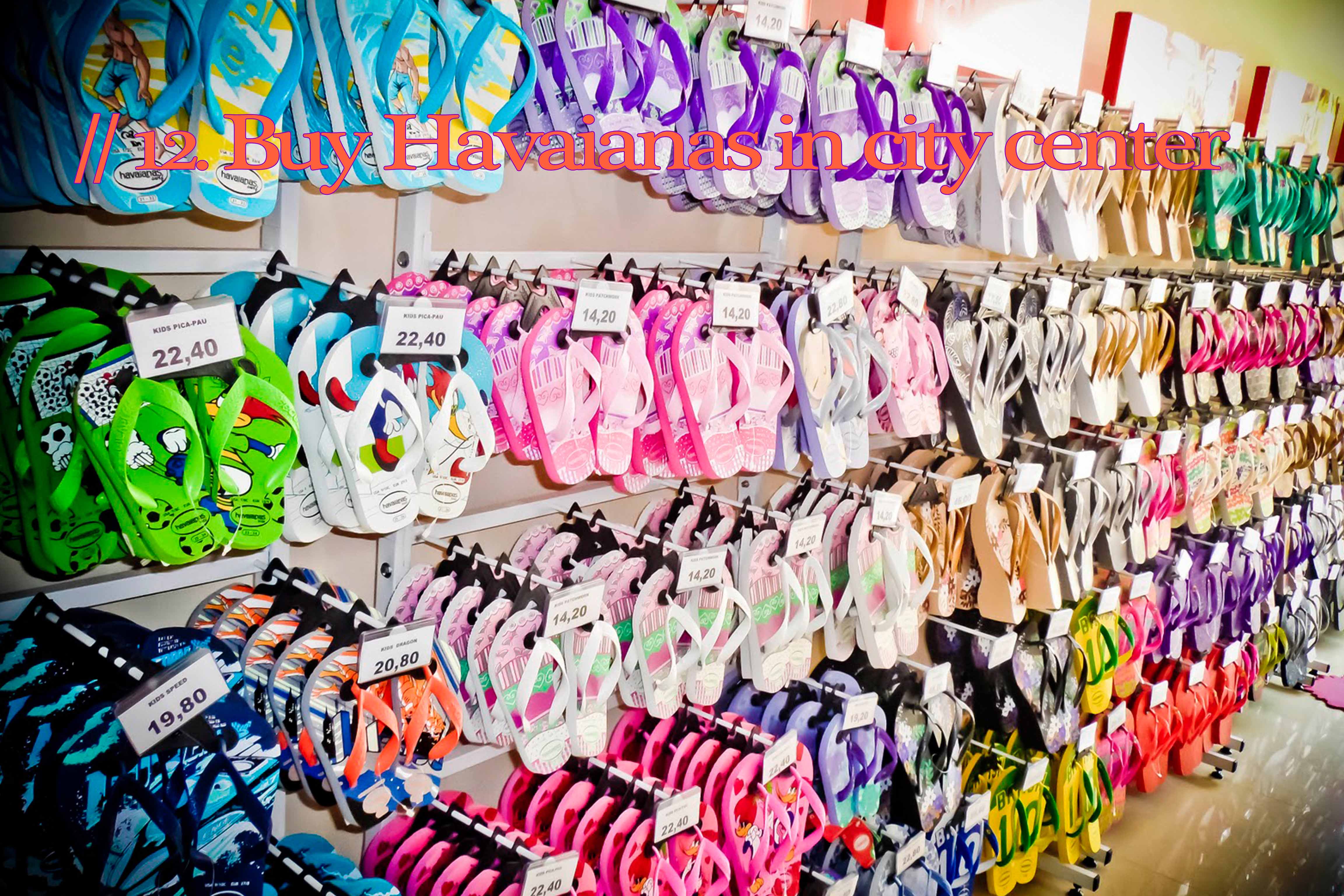 11. Find alternative food options. Obviously the simplest way is to use grocery stores and/or outdoor markets. There are a lot outdoor markets in Rio, but to get by without any knowledge of Portuguese will be a challenge since few people speak English. Other options are executive lunches, usually served between 12pm and 3pm. Ask for a prato executivo and you will get a cheaper option than those on the menu. Or go to a typical Brazilian 'por kilo' restaurant (buffet), where you pay by weight for the food you put on your plate. There are lots of these restaurants and most of them have pretty good food for around R$20-30. 
12. Buy your Havaianas in the city center. These are a favorite holiday gift, and some people leave Rio with over ten pairs of the iconic Brazilian flip-flops. But in the city center, behind the Uruguaiana covered market, several shops offer Havaianas for a reduced price, especially when you buy a bunch of them. Walking from the Carioca metro station, enter Rua Uruguaiana, turn left, and walk right through the market. In the backstreets behind the market, you can sate your hunger for the popular chinelos.
13. Arrange you own tickets for a football game in the Maracanã. While all hotels and hostels offer expensive tours to see a football match in the famous Maracanã stadium, it is easy to arrange it yourself. You can buy your ticket at the Ticket Center on the boulevard in Copacabana (up to 5pm on the day before the game) or at the ticket offices of the clubs (Flamengo, Fluminense, Botafogo and Vasco da Gama), until 1pm on match day. The maximum purchase is 4 tickets per person (sometimes 3), and you have to bring your passport or ID. Your first save is not paying a commission on top of the tickets. Your second save is transportation: you can easily get to the stadium on the metro (R$8 there and back). There is a metro station right in front of the stadium. There is no need to worry about safety on the return trip in the metro, since you will be with all the other supporters heading back. *(NOTE: this won't be until after the Olympics, because Maracanã is unfortunately closed in preparation for the Games.)
Last but not least: Before you travel to Rio de Janeiro, or any place for the matter, there are some easy things you can change about how you spend money, in the weeks or months before your trip. Expert Matthew Kepnes, better known in the travel world as Nomadic Matt, has some great tips for you to cut down the expenses. Here are some: skip movies, stop drinking, quit smoking, downgrade your phone, learn to cook (instead of throwing your money away in overpriced restaurants), cut out coffee, and so on. Read the full list here. You will experience that Rio de Janeiro is a great city and by trying to safe money, you will find yourself closer to the locals. Discovering Rio de Janeiro on a budget will definitely give you a better perspective of how Cariocas live their life in the Marvelous City!
by Jan Willem Zeldenrust | 26/05/2016
Feature image: