Anyone who's tried it knows that the humble bicycle is the best way to explore a new city. Covering more ground than walking, discovering nooks and crannies no car or tourbus can reach and far more scenic than the airless underground, cycling wins every time as a tourist mode of transport. But, believe it or not, 25 years ago when Robert Graham founded The London Bicycle Tour Company, cycling in London was not an option. Hard to imagine now in this cycle-centric culture, but London Bicycle organised the first ever bike tour of London all those years ago, and have been going strong ever since! Over 100,000 tourists from far and wide have enjoyed the unique experience of seeing London and learning about its rich history from the comfort of our saddles.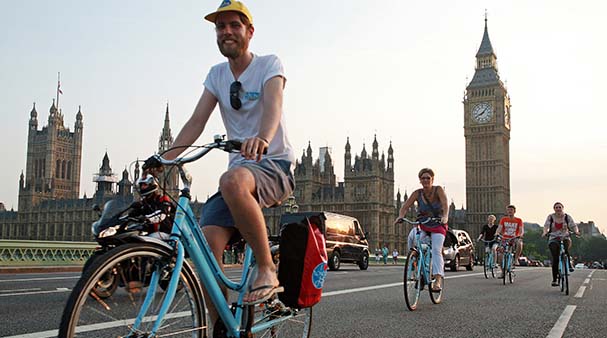 With tours available 364 days of the year and in 7 different languages (English, French, German, Dutch, Spanish, Japanese, Portuguese and Italian) there is something for everyone and every side of London is covered. To tick off all the top London landmarks in just three hours, the Central London Tour is for you. Or for the drama kings and queens among us The West End Tour will take centre stage, taking you through the depths of theatre-land and the quirky alleys of bustling Soho, not missing the chance to catch the famous street- performers of Covent Garden.
If you already know a bit of London and want to discover some hidden gems and grisly history, the East Tour is not to be missed. If you're more of a night owl and are keen to experience the 'bright lights' of our buzzing city, the Night Tour delivers a jam-packed circuit of all the best nightlife spots and plenty of landmarks along the way, lit up in full glory against the dark sky. Come Christmastime, the tours at night take on an extra bit of sparkle by taking you on a fantastical journey through all the best Christmas lights display that London has to offer.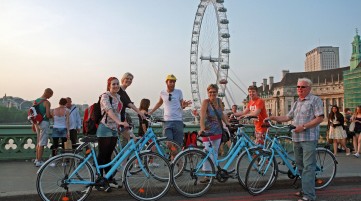 With mulled wine and Santa's hats to get you definitively in the festive mood, the Christmas Lights Bike Tour is sure to put a twinkle in the eye of even the Scroogiest of Grinches.
If you're looking for something a bit special, further off the beaten track, then look no farther. Our knowledgeable troupe of guides (who are all avid London cyclists) will take on the challenge to deliver you a unique bespoke tour that is sure to satiate even the most demanding of London ambitions. In its 25 venerable years the London Bicycle Tour Company has come to do far more than what it says on the tin. On top of our 5 fascinating bike tours, we now have two bike hire locations offering competive prices for those keen to pedal out on their own. Also we have a centrally located repair shop boasting over 15 years experience, providing maintenance, spare parts and bike-building services to people all over London.
---
About London Bicycle Company
Contact: mail@londonbicycle.com
Telephone: +44 20 7928 6838
Open from:
Summer, April-October: 9.30am - 6pm. 
Winter, November-March: 10am - 4pm.
Feature image: